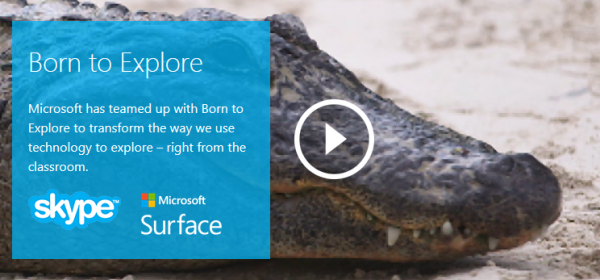 Microsoft's Bing, Skype and Surface are partnering with ABC television's "Born to Explore" team to help families discover the world with the help of technology.
"Born to Explore" takes students on educational journeys called "virtual field trips". And on Saturday's episode, you'll see students in a classroom in upstate New York study alligators in the Everglades through Skype.
For "Born to Explore" executive producers Mercedes Velgot and Richard Wiese, their mantra encompasses much more than traveling the world to capture a few wild creatures on film.
"Sure," Richard explains, "we look at a lot of animals—we see a lot of beautiful places—but really, we're very inclusive of cultures. We feel that part of our vision is cultural understanding. And," he continues, "a lot of that is accomplished through sharing a meal with someone, or going out and joining them in the work that they're involved in. Even through music, dance or crafts."
While eager learners of all ages can tune into "Born to Explore" on ABC, various classrooms scattered across the country have been encountering an even closer window into the authenticity-driven duo's worldly adventures—all thanks to Skype.
"We're really excited to be teaming up with Microsoft and Skype in the Classroom," Mercedes exclaims. "It really is this great partnership of education and technology, and exploring the world in a whole new way. And really that's what the show is about."
Richard continues, "From an explorer or naturalist's standpoint, the whole technology revolution has been great for us. From a personal standpoint, our whole team is constantly calling their family and loved ones via Skype. But," he adds, "the ability to share images—not only with family, but with the larger public—that's just incredible."
"When we took that class to the Florida Everglades, the experience was especially magic," he elaborates. "Because they knew it was happening live! It's just such a different feeling than if they were simply watching a taped or curated experience. Skype, and the technology now available to us—while we're in the field or on location—has been a total game changer."
While Richard and his accompanying alligator expert leveraged their Microsoft Surface Tablets for close-up shots of toothy reptiles (and perhaps, as a necessary shield), wholly engaged fifth graders dropped jaws of their own in awe.
"We feel we're on the forefront of where educational television is headed," Richard explains. "That, equipped with the right technology, we're able to take our socially conscious educational message across in an entirely entertaining way."
He continues, "And the whole idea of bringing that live via Skype to students is really appealing to us. When we see something that we're doing affecting someone at that moment, it's really satisfying. It gives us a lot of fuel, because we know we're doing something right… they're getting the message."
https://www.microsoft.com/en-us/education/products/skype-born-to-explore/default.aspx